I woke up this morning to "thump, tap, tap, tap, tap, thump." My two puppies were chasing each other around the living room engaging in their favorite past time, squeezing through the tiny space between the couch and the wall in an effort to make the chase a little more adventurous with the possibility of puppy brain damage. Usually this would be cause for a very grumpy morning, but this morning I woke up from a full 11 hours of sleep which may seem excessive, but after a combined 10 hours of sleep over the last 7 days, it was pretty much life saving.
Between busting out proposals, lunch meetings with clients, and putting the final touches on WordCamp Miami I had pushed myself to the limit of exhaustion. I pride myself on being calm under pressure and providing perspective to my stressed out colleagues, but this week was full on "OCD Event Planner Jess" as I coordinated the WordCamp Miami Speakers' Dinner at The Ivy in Coconut Grove, did a walk-through at the University of Miami School of Communication to make sure the venue was just right, and then panicked when I found out we had actually sold out of the 200 available tickets. For most people a sell-out is a definitive victory, but for someone planning an event in Miami it brings the promise of not only a full house, but a long line of party crashers you don't have room for. And so I broke my calm under pressure mantra and completely freaked.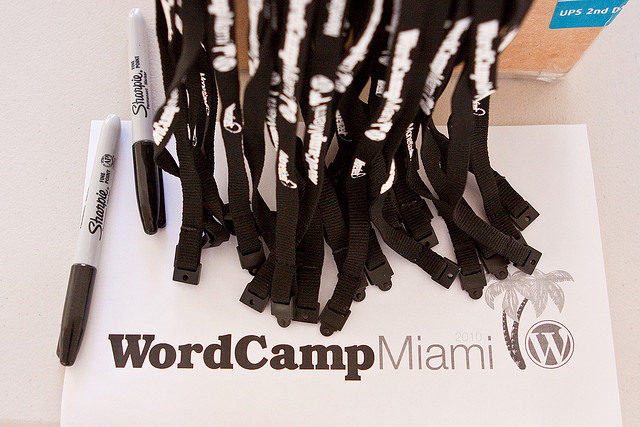 Then yesterday came even earlier than usual with a 6:00 a.m. wake up call and a quick sprint to set up the WordCamp Miami venue. As people started to flow in at 8:00 a.m., in other words exactly on time, I knew this event was going to be different. Everyone was smiling and excited about the day before it even began. No one was standing in the corner waiting for the event to impress them, they were talking to one another about how great of a deal they were getting for only a $30 ticket. Impromptu volunteers pitched in to hand out swag, check in attendees, and point people in the right direction when they couldn't find the right room.
When one of the speaker's dropped out of the first session because he was sick, no one complained. Instead, they quickly moved on to the next room to listen to Jim Turner talk about his transition from "Daddy Blogger to Business Blogger" or Pete Bernardo talk about "Great Plugins for Your Next Client Project." For the first time in 24 hours I breathed and for the rest of the day I just smiled as people thanked me for a great event full of great speakers and great people.
When I was approached about helping to organize WordCamp Miami I took on the project as a favor to some great local geeks who needed an event planner's touch. I didn't expect to learn much or even really meet many people I had anything in common with yesterday, but I was completely wrong. The enthusiasm, generosity, and just general awesomeness of the Miami WordPress community not only gave me the feeling of a job well done for a community of people who definitely deserved it, but an intense appreciation for the tight-knit, intelligent, and motivated community of users, developers, and fans of WordPress. Using a completely organic, community motivated approach, WordPress has cultivated an army of brand advocates who preach the gospel of the platform and convert even the most non-technical word smiths, old-school developers, and social media cynics.
End geek mushiness here.