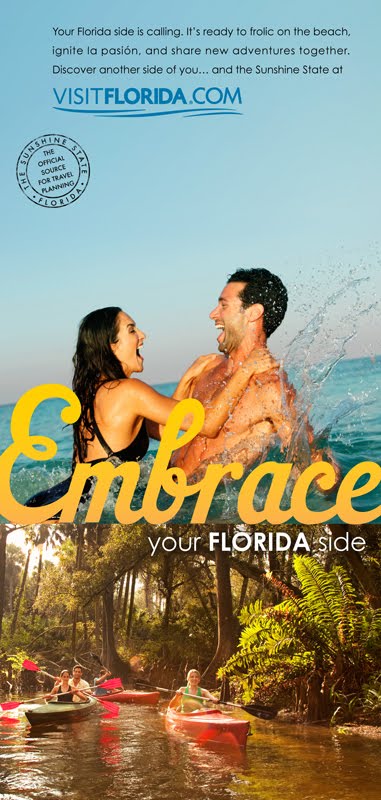 Florida's official tourism marketing corporation, VISIT FLORIDA, is rolling out a new integrated marketing campaign that they hope will lure back "recession-weary" visitors by pushing the Florida brand of sunshine, beaches, and entertainment to some of the country's less fortunate residents who are toughing out a rough winter.
The campaign includes print advertising, broadcast and cable television, radio, online and out-of-home advertising, consumer travel shows, as well as online and mobile sweepstakes. According to VISIT FLORIDA the messaging for the campaign includes "vibrant imagery that combines both familiar and unexpected Florida scenery with action verbs encouraging consumers to embrace, unleash,awaken,and release their Florida side." DDB Miami, with consultation from The Hester Group, The Rodriguez Group, and Miles Media developed the campaign.
I'm not entirely sure what is "unexpected" about this campaign. All of the imagery is of attractions tourists have seen and none of it sells Florida's most unique value proposition: culture. Contrary to popular belief we aren't the only warm place with sandy white beaches at this time of the year, so if we are going to compete there's a better way to do it. Where are the pictures of people dancing on Calle Ocho, or the young, hip Downtown Orlando area, or the colonial-esque shops and attractions in St. Augustine?
Tourists are traveling smarter this year, investing money in real experiences for themselves and their families. That experience has to include more than the promise of a nice tan. Florida needs to position itself as an off-the-beaten path adventure that is just next door. Sell people on the opportunity to experience an environment, history, and culture that outshines (excuse the pun) all of the other sunny, warm beach destinations.
Even though I'm not a fan of the brand story used for this campaign, I love the integration of social media into VISITFLORIDA.com. The page links to VISIT FLORIDA's Twitter, Facebook, YouTube, and Flickr accounts which all feature fantastic content for tourists looking to plan their trip. The photos on Flickr make me want to take a mini-staycation to experience some of these unique events.
But my favorite feature? The "Florida Insiders" section. There are insiders for all of the popular Florida attractions, including golf, beaches, and fishing, but there are some unexpected topics too like "Off the Beaten Path" and "Luxury." Each insider has a Twitter account you can follow and a blog with consistent posts on the unique attractions, hotels, and events Florida offers. The insiders even answer user submitted questions, helping tourists get the most out of their time here. These people are really selling the Florida advantage and I think this part of the campaign will prove to be the most successful.
Final Grades:
Branding (Taglines, Use of Imagery to position Florida's brand, and Unique Value Proposition): B –
Social Media: A+
Integrated Approach (Reaching consumers with a consistent message across multiple platforms): B